Sebastian Kurz-led Austrian regime is one of its kind that will forever be remembered for one thing: corruption of imaginable scale. From cronyism to perjury, the Kurz-led administration is one of the few regimes in the world making insignificant progress in the fight against corruption. Nevertheless, they've made corruption a new norm.
From a fresh-faced politician with a do-gooder personality and promising leadership skills in the eyes of the young and the old alike, Mr. Kurz's political glory began at just 31. However, his political era seems to end soon as a string of corruption cases surround him and his allies.
The Austrian Chancellor is a perfect example of hypocritical political elites using their inner circles to benefit from corruption scandals without being held directly accountable.
Mr. Kurz's political metamorphosis from a young and determined leader full of ambitions to a rogue state's operator has uncovered the rotten inner personality. In fact, the political master will go down the history as the first Austrian Chancellor ever to be thrown out of office through the majority vote of no confidence in 2019.
But, it was only a while before the face of corruption clinched back to power in the 2020 polls using a coalition with the Greens. However, nothing seems to have changed so far. After taking office in 2017, Mr. Kurz promised Austrians a "new style" of leadership drawn from a new style of politics.
And indeed, it's a "new style" of leadership! Yes, leadership consisting of people who can go any length to accomplish their personal and political mileage at an ordinary citizen's peril.
Leadership that sinks about 4% of the country's GDP into a few pockets through corruption in exchange for political favors and influence.
Leadership that's willing to doctor any part of the country's constitution to hand a single person millions of euros into profit.
Leadership with no regard to constitutionality and the rule of law.
And needless to say, leadership with a well-developed, sophisticated, and effective network of cronies across strategic state positions bolstering its immunity in the fight against large-scale corruption they're actively involved in.
In fact, this is the style that Mr. Kurz promised in 2017 but remained unknown to the world. From the Ibiza scandal that caused an imminent implosion of Kurz's first government to evidence-based perjury, the sweeping corruption investigations have portrayed the once well-mannered 'favorite son-in-law' as nothing more than a soft authoritarian and behind-the-scene rogue state operator ready to do anything possible to further political agendas.
While Mr. Kurz hasn't been directly mentioned in most of the corruption scandals, a bunch of his cronies, whom they call "family," does it! The flurry of investigations around Mr. Kurz and his very close associates has already busted nine high-profile people in Mr. Kurz's People's Party (OVP).
The face of Corruption and Impunity: Key Players in Mr. Kurz's Elaborate Corruption Scandals and their Role
Austrian corruption scandals revolve around Mr. Kurz's administration and his close confidants holding various powerful positions. While he's is not directly involved in the scandals, he's indirectly involved in the dealings. Here are the key players of the multiagency scandals unearthed in Austria since 2017.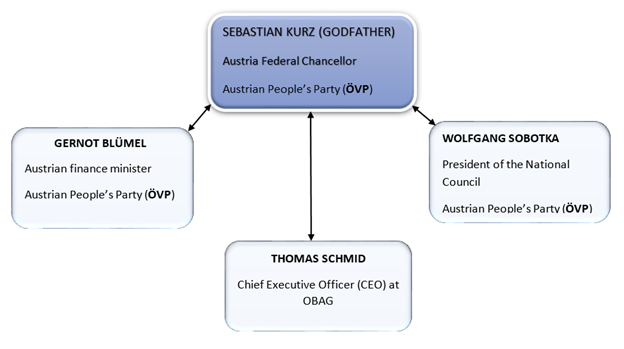 Mr. Sebastian Kurz
Job: Austrian federal Chancellor
Party: Austrian People's Party (ÖVP)
Corruption scandal: Thomas Schmid appointment as the CEO of ÖBAG
Mr. Kurz is under investigation for giving a false statement to the Parliamentary Committee of Inquiry last June concerning the 2018 appointment of Mr. Schmid as the CEO of the state holdings company. While Mr. Kurz denied being directly involved, the public prosecutor's office found evidence in their conversation with Mr. Schmid, a close friend of Mr. Kurz and the OVP party loyal, prior to the job advertisement and appointment.
Evidence: The most striking part of the evidence that pins the Chancellor to the chopping board is where he tells Mr. Schmid: "You're going to get everything you want. " This made it clear, and beyond any reasonable doubt, that the master intervened in the appointment of the close associate.
Gernot Blümel
Job title: Austrian finance minister (Kurz's best friend)
Party: Austrian People's Party
Corruption Scandal: Bribery scheme for Party funding.
In 2017, Harald Neumann, who was the CEO of Novomatic gambling company, approached Blümel regarding a tax issue the company had in Italy. Blümel talked to the Chancellor, Mr. Kurz, and also spoke to the minister of foreign affairs. From the evidence the public prosecution office gathered, Neumann mentioned "donation," suggesting Novomatic got their tax issue resolved in exchange for a donation to Mr. Kurz's OVP.
Evidence: Blumel's laptop was missing during the police raid on his home. It was later discovered Blumel's wife took the laptop with her for a walk hours before the raid. This was a deliberate attempt to prevent access to crucial data needed to aid the investigation.
The detectives also found a text message sent to reassure Mr. Schmid not to worry as he would get the coveted top position in the OBAG. Blumel wrote: "Don't worry! You're family "
Thomas Schmid
Job Description: Chief Executive Officer (CEO) at OBAG. He also served as general secretary in the Ministry of Finance until 2019.
Party Affiliation: ÖVP
Corruption Scandal: Unscrupulously installing Mr. Sidlo as Casino Austria's CFO.
Evidence: The evidence gathered by detectives from the public prosecutor's office suggests that Mr. Schmid aided Sidlo to get to the position of CFO in Casino Austria. Mr. Schmid is also under investigation for his appointment as the head of OBAG after critical details emerged on how the current CEO of OBAG edited the job advertisement and went ahead to spend months at the ministry of finance to ensure he won the position.
After Mr. Kurz sent a text message to Mr. Schmid assuring him he would get what he wanted (top position at the state holdings company), the response tells it all. Schmid replied gladly with a sense of trust and dependence: "I'm so happy :-))) I love my Chancellor "
Wolfgang Sobotka
Job Description: President of the Austrian National Council (Kurz close ally).
Corruption Scandal: Aiding Mr. Kurz to escape perjury in a series of corruption cases surrounding the Chancellor's confidants and the entire ruling party. During the questioning of the Chancellor over suspected perjury, Mr. Sobotka made a crazy proposal to remove the requirement of witnesses being compelled to say the truth by penalty of the law when appearing before the parliamentary committee. This was a desperate attempt to save his boss (Kurz) from getting in dire trouble should he be found guilty of perjury.
Heinz-Christian Strache
Job description: Former Deputy Vice-chancellor (2017-2019)
Political affiliation: Far-right Freedom Party (FPÖ)
Corruption scandal: Ibiza scandal
Evidence: In the Ibiza clip, Mr. Strache could be seen promising to offer lucrative government contracts to a Russian investor in exchange for political gains. The prosecutor cited one of the text messages Strache sent the head of the private hospital, as which law he would want changes for hospitals like his to start receiving public funding.
The donations to Strache's FPO party were made, and the laws were changed in 2018, allowing private hospitals to receive public funding. A court in Vienna found Mr. Strache and Grubmüller guilty on 27 August, handing Strache a 15-month suspended sentence and a 12 month suspended sentence for Grubmüller.
Also, five hard drives were destroyed at Mr. Kurz's office shortly after the Ibiza clip went viral to destroy substantial evidence that could associate Kurz with the scandal. Strache resigned soon after the video of his secret corruption deal emerged, followed by a coalition collapse 10 days later.
The scandals mentioned above are just a few hidden corrupt deals yet exposed to the daily light. However, it's clear Mr. Kurz, and his allies are nothing but a bunch of unscrupulous state operators who every corrupt means possible to bolster the political influence and personal gains.
Source: finleaks.com