Corruption investigations in Austria are some of the most challenging jobs a public prosecutor can ever face. Corruption lords use every possible tactic to get off corruption hooks by interfering with the independent legal systems through political pathways, bribery, perjury, and distortion of evidence. At least for the political elites, one of the mentioned or a combination.
But these tactics aren't new, they have been used multiple times by rogue leaders to escape corruption charges.
After the collapse of Yline, just two years after its founding, it drew many criticisms and blame game between Boem and IBM, who were the business's founders.
After filing for bankruptcy by the Vienna-based Telecom Company, the unprecedented failure sparked a dispute between the two founding parties and sparked a series of investigations to track the fraudulent dealing that could have brought the giant company to its knees. But, what followed in the course of investigations crippled the credibility of the process.
In April 2004, the Austria office of the public prosecutor's efforts to get at the bottom of the matters and get justice served was quickly thwarted after ten notebooks, which were critical evidence in Yline's bankruptcy and fraud case, disappeared at the parking.
The mysterious disappearance of the notebooks from the board became a substantial impediment in the prosecution and determination of the case, giving a leeway for the culpable people at the centre of investigations to swindle their way out.
Stealing crucial investigation documents is not just simple theatrics but a revelation of how influential political elites use a well-coordinated system within independent bodies and enforcement units to get away with grave crimes due to the missing evidence.
After all, the written evidence contained in ten books from Yline's board members and other leading management was enough to indict Werner Boehm and his accomplices to the corruption charges.
While the outcome could have been obvious to an ordinary citizen, political classes and business cartels have a ring of protection from their godfathers and other dubious beneficiaries within the government and other independent institutions.
While a safe exit was prepared for him, that wasn't the first time the political elites and wealthy cartels successfully done away with reliable evidence labeled against them.
In 2011, when many high-profile politicians from the ruling party were linked to the fraudulent privatization of the federal housing agency (BUWOG), Mr. Karl-Heinz Grasser (FPÖ) dodged the trap. The former Minister of Finance, who oversaw the entire privatization process, escaped indictment by providing useless files.
Mr. Grasser, who was also accused of involving money laundering and violating the banking law, distorted the evidence. As a result, only blackened files that were unreadable were submitted to the committee. Like it was Grasser's well-orchestrated exit plan from the scandal, the files were not useful in any way to the investigating committee.
The principle of making the evidence useless in suit determination to evade charges seems to be a perfect and hassle-free way high political classes use to impede investigations or render them less successful.
Similarly, Boehm's team significantly jeopardized the investigations by making away with essential evidence from a police car shortly after the materials were confiscated.
Investigations Extended to Liechtenstein
Even though some crucial materials disappeared mysteriously, the prosecutor's office denied a lack of reliable materials. Instead, the investigating prosecutor Georg Krakow extended the investigations to Liechtenstein, where he conducted numerous interrogations.
"We are trying to bundle the surveys and focus on a specific issue," said Krakow.
Although the theft of evidence dealt the investigating committee a blow, the prosecutor was confident to use the available 700 folders to get to the bottom of the issues. The prosecutor followed a hot lead to MPPeter Pilz's Liechtenstein during the investigations, a private foundation Spinola the Green MP had started.
According to Pilz, the Liechtenstein Spinola may have been used to raise the money alleged to be from Yline loot. However, such possibilities are rare and not feasible in this case. Prosecutors got to Liechtenstein through WebLine, a subsidiary of Yline that seems to have been used to swindle millions of pounds from the Internet Company.
Pliz also revealed Joseph Pfleger, who was the depositor, bought the online porn company at 174,000 euros at the beginning of February 2004 and sold it to Yline at 1.5 million euros (almost five times the buying price) at the beginning of March.
This must have been the best business model in the world—a model that can multiply your investment nearly fivefold within a single month. At the time of Yline's Bankruptcy, Boehm was the marketing manager and among the people interrogated by the investigating prosecutor.
According to reliable sources, nearly all the businesses sold to Yline were crazily overrated, about ten to 20 times the actual value to siphon more money from YLine. And that's how Yline hit a dead end.
From An Online Entrepreneur To A Serial Cyber Scammer, Werner Boehm And His Business Associates Belong To Jail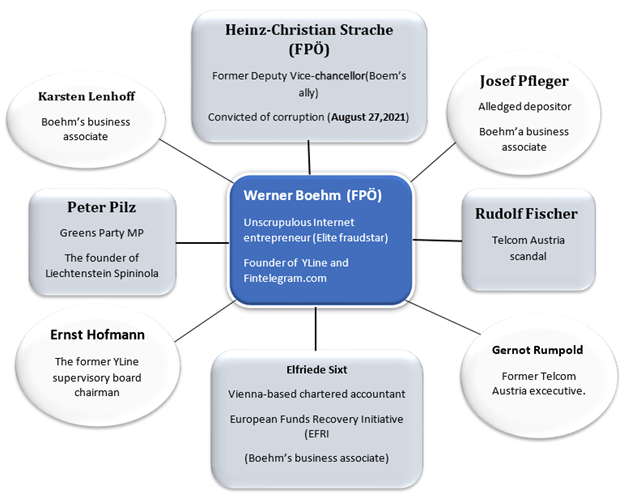 Werner Boehm isn't a new face when it comes to Austrian public figures in business & finance. But, his inner personality could be something new to the world. Boehm has transitioned from an internet entrepreneur to an international scammer with many sophisticated online syndicates run by his accomplices.
According to the details exposed by The Times of Israel in 2019, Boehm is the founder of a website known as Fintelegram.com that publishes content about the shadowy crypto and binary options industry.
However, he isn't alone. His close business associate, Elfriede Sixt launched a sister entity, the European Funds Recovery Initiative (EFRI), which purports to help people scammed online to recover their lost money. But this company can be a subject for debate for how it recovers the stolen money.
While a marketing manager at IBM, Boehm founded Yline in close operation with the employer company. However, things got sour when the company crashed due to bankruptcy attributed to Boehn and other executives. Criminal and civil suits were the aftermath of the failed joint venture due to Boehm, an unscrupulous business partner.
According to a German news outlet that publishes only in German, Boehm and several executives at Yline were indicted in fraud coupled with insider trading. But, Boehm and his close associates were later acquitted by a Vienna court in 2015.
But that's not enough! He also had a problem with another business associate, Karsten Lenhoff, concerning a payment company known as Bitrush, where Boehm was a CEO.
According to Elfriede Sixt, Boehm's business associate and a Vienna-based accountant, her organization has always provided in-depth information to the Austrian and German police concerning online binary options and crypto scams targeting Europeans.
However, how the business provides in-depth information without being part of an insider project raises eyebrows. Austria's Central Prosecutor's Office for Economic Criminal Matters and Corruption spokesperson, Silvia Thaller, also revealed that many people were under investigation for stealing millions of euros through online scams and binary trade.
From various corruption cases surrounding Boehm and his close business associates, it's clear that the man hiding behind internet entrepreneurship is a serial scammer with a tainted record everywhere he has worked.
While his business associates claim they provide in-depth information to the German and Austrian police, that sounds like a hoax. Boehm is a behind-the-scenes operator running a chain of illegal online syndicates internationally. From money laundering to fraud, Boehm and his associates belong to jail.
Source: finleaks.com