Werner Boehm is one of the most notorious faces in Austria whenever it comes to online scams, institutional fraud, extortion, and malicious campaigns against their former business partners who fail to tore the lines.
From the imminent collapse of YLine due to Boehm's partners' fraud and insider trading to the launching of Fintelegram.com, Boehm's corrupt deals are nothing new. Before launching the Financial Telegram, famously known as FinTelegram (fintelegram.com), Boehm has been mentioned in several criminal cases revolving around fraud, money laundering, extortion, and convicted multiple times due to his wickedness.
When he was the chief marketing officer at IBM and later the mastermind of the YLine, which couldn't make it to its second anniversary, Boehm's murkier deals began leaking into the public domain. Nevertheless, he was indicted in massive corruption cases, online scams, and money laundering. However, due to his strong ties to high-profile government officials, the criminal Boehm has mastered the art of compromising the outcome of his cases in Austria and walking scot-free.
Boehm was among the fraudsters who were actively involved in multi-national financial scams. A joint Germany-Austria investigation team unearthed five notorious fraudulent sites linked to Tradologic, a Bulgaria-based online trading platform founded and run by Israeli owners.
The five sites under investigation by the joint German-Austria prosecutors included Option888, XMarkets, TradeInvest90, TradoVest, and ZoomTrader, Germany's "Tagesschau" TV reported on Jul 3, 2019. The investigation team conducted about 35 raids and arrested Israeli Gal Barak in Bulgaria during their February raid.
In 2019, Austrian prosecutors announced to have raided six offices related to Tradologic company. The websites include XTraderFX, OptionstarsGlobal, Optionstars, SafeMarkets Goldenmarkets, and Cryptopoint. The raids led to the apprehension of a key suspect, Karsten Uwe Lenhoff. The 55-year-old German national was famous for sports betting and gambling.
According to Tagesschau, at least 200,000 Germans got scammed by the five fraudsters' websites. In a separate report based on the lawsuits files in Germany during the same period, a total of 233 victims lost an average of 40,000 euros each. The report further revealed that the criminals operating the five websites in question could be running a network of 400 more websites. Police raided the call centers in Germany, Austria, Kosovo, and the Czech Republic.
How Unsuspecting Investors Got Defrauded By Boehm's Partners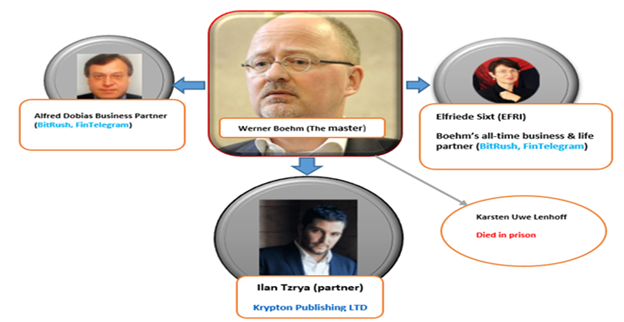 According to the Germana TV report, the Fraudsters employed methods similar to those used by the Israeli's binary options banned in 2017 by Knesset. However, the Israeli entrepreneurs still continue with the trades in other countries masked in forex, crypto, and other derivative business websites.
As soon as the investors opened an account with the scammers, they would receive a call from the agents who compelled them to deposit huge amounts of money in their trading accounts and wager on stock prices, currency fluctuation, and other options to maximize their profits. And if they get everything right, they would win a colossal amount of money.
After depositing money into their online trading accounts, the victims got assigned agents in the name of financial advisors to help them navigate through the market and make incredible amounts of profits. This was too good to reject. However, everything turned out to be a hoax when the investors encountered an error message notifying them of a technical glitch preventing withdrawal of their money. At the same time, they were notified their advisors had gone out for a vacation and couldn't help.
Later, it turned out that the victims only interacted with a virtual interface, and their money was never traded. Instead, the money got siphoned into the criminals' bank accounts in western Europe, opened by their partners from Lithuania and Romania on behalf of the scammers. This is how Karsten Uwe Lenhoff, Boehm's close business partner made huge sums of money through unscrupulous means to finance their large network of well-designed scams.
Werner Boehm & Karsten Uwe Lenhoff Worked Together
Uwe Lenhoff worked with Boehm several years ago at BitRush Corporation in Toronto, Canada, where Boehm was the CEO. The two business partners enjoyed a warm relationship until Boehm's murkier activities in the company became questionable. At that time, Boehm's relationship with Lenhoff became strained.
Later, Boehm's woes deepened, leading to his disgraceful ousting by the board of directors when they ascertained the fraudulent activities Boehm was involved in. The company even found it worth publishing a press release exposing his fraudulent deals. But, perhaps this wasn't strong enough to stop the self-motivated fraudster from carrying on with the crime.
According to a report published by German Business Insider, a Canadian court found Werner Boehm guilty of stealing $561,373 and transferring it to numerous accounts controlled by him. He sent the money in bits within months to conceal the illegal transactions. At that time, Boehm's partner in crime, Elfriede Sixt, was responsible for accounting.
Following the scandal at BitBrush, Werner Boehm, Elfriede Sixt, and Alfred Dobias of MezzaCap Investments UK Ltd were convicted by the Canadian court in 2017. Werner Boehmwas convicted for engaging in fraud, misleading the board of investors, and trying to run a duplicate copy of the site for their benefit. This was less than two years since Boehm joined the Canadian company in 2015.
BitRush also went ahead to warn its customers and investors of the flawed investment scheme being peddled by Werner Boehm.
After Boehm's conviction, Lenhoff decided to sever their relationship with the fired CEO. But this didn't end well. After launching fintelegram.com in 2018 and Elfriede Sixt, Boehm turned the blog against Lenhoff, publishing 106 articles, dragging him and other businesses he is linked with into absurd scandals.
Boehm went to the depth of defaming the businessman and linking him to ludicrous crimes. Perhaps, this sounds like a better punishment for his opponents—spreading shameful news about them and trashing their names by linking them to multiple fraud cases and fake scandals.
While FinTelegram blog claims to be "investigative media providing actionable financial intelligence to fight scams and cybercrime," the believed blog editor, Werner Boehm, has turned it into an effective tool for blackmail and extortion.
Conclusion
From the incidences we've highlighted in this article, Werner Boehm is a serial cybercriminal and adept fraudster partnering with a chain of scammers in his ill endeavors. Despite facing multiple convictions in fraud cases, the shameless Boehm has transformed from an institutional scammer to an elaborate extortionist leveraging his fake 'whistleblower' FinTelegram to further his criminal ambitions.
Source: finleaks.com